The Ministry of Health and Wellness and the Ministry of Finance and the Public Service have acknowledged the European Union (EU) for their contribution to the Support for Health Systems Strengthening Programme, launched last year to tackle Non-communicable Diseases (NCDs).
The EU has contributed 10.2 million Euros in grant funds to the programme for which it was officially recognised in a ceremony hosted by the Ministry of Finance and Public Service on Wednesday. Its contribution augments the US$50 million being provided for the programme under a loan agreement with the Inter-American Development Bank.
The programme comes as some 70 per cent of Jamaicans die from NCDs annually. At the same time, 1 in three Jamaicans have hypertension; 1 in 8 live with diabetes; and 1 in 2 are overweight or obese, putting them at risk for these and other NCDs.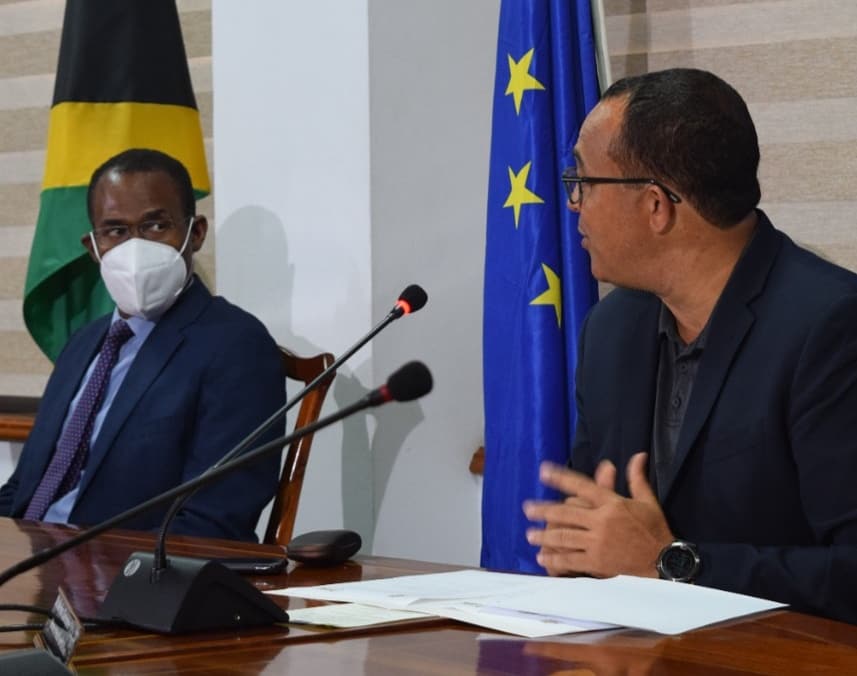 "The data reflects the clear and present danger of the scourge of NCDs affecting the population, and which warrants a change in the operation and management of the public health system guided by a Chronic Care Model that allows for interventions at the patient, provider and system levels together with the renewal of primary health care," noted Minister of Health and Wellness, Dr. the Hon. Christopher Tufton at Wednesday's ceremony.
"The Health Systems Strengthening Programme tackles these needs full on, enabling needed improvements to the physical infrastructure at three hospitals and 10 health centres and providing them with the required medical equipment to support the delivery of care," he added.
"It also supports the creation of a strong foundation for a digital health ecosystem, notably an information systems for health that sees the transfer of paper records to digital format while promising collaborative care, cost control and the use of big data to diagnose and treat individual patients while enhancing the overall management of the health of Jamaicans," the Minister added.
Since its official launch last year, the programme has made important strides on implementation, including:
design work for 11 of the 13 facilities to benefit under the programme and which are now being reviewed;
the start of rehabilitation of laundry facilities at three hospitals;
procurement of medical equipment, with a focus on enhancing diagnostic and screening capabilities; and
the rollout of innovative tele-monitoring training for public health practitioners.
"In the coming months, we will accelerate those and other efforts under the programme to the benefit of the people of Jamaica," the Minister said.