The Ministry of Health and Wellness has been provided with financial support from the Inter-American Development Bank (IDB) for the project, 'Support for Health Systems Strengthening Programme for the Prevention and Care Management of NCDs'.
The programme has as its objectives to 'improve the health of Jamaica's population by strengthening comprehensive policies for the prevention of NCD risk factors and for the implementation of a chronic care model with improved access to strengthened and integrated primary and hospital services networks that provide more efficient and higher quality care'.
The programme is being implemented at a time when 1 in 3 Jamaicans have hypertension; 1 in 8 are living with diabetes; and 1 in 2 are overweight or obese – a known risk factor for NCDs, including cancer and respiratory disease.
Further, 4 out of every 10 Jamaicans are expected to suffer from a mental illness over the course of their life time while the suicide rate is approximately 2.1 / 100,000 with statistics from the Jamaica Constabulary Force showing between 47 and 56 deaths per year due to suicide over the last three years.
Organisation and consolidation of integrated health services networks.
This component will, among other things, finance the purchase of medical equipment and the improvement of infrastructure for primary health care services in the catchment areas of three priority hospitals to increase their capacity in health promotion and disease prevention, especially regarding chronic NCDs.
Improvement of Management, Quality & Efficiency of Health Services.
This component is to see the financing and implementation of a health information system with functionalities in patient registration, medical health records, laboratory, outpatient scheduling, pharmacy and other relevant services and its rollout in three health networks.
Programme Administration and Evaluation.
This component is to strengthen the Ministry of Health and Wellness' capacity for project implementation. Among other things, this component will also provide resources for the adoption of innovative technologies in telehealth, such as remote specialist consultation from clinics and general hospitals. Training will also be provided to clinical and administrative staff in the new instruments supported by the project.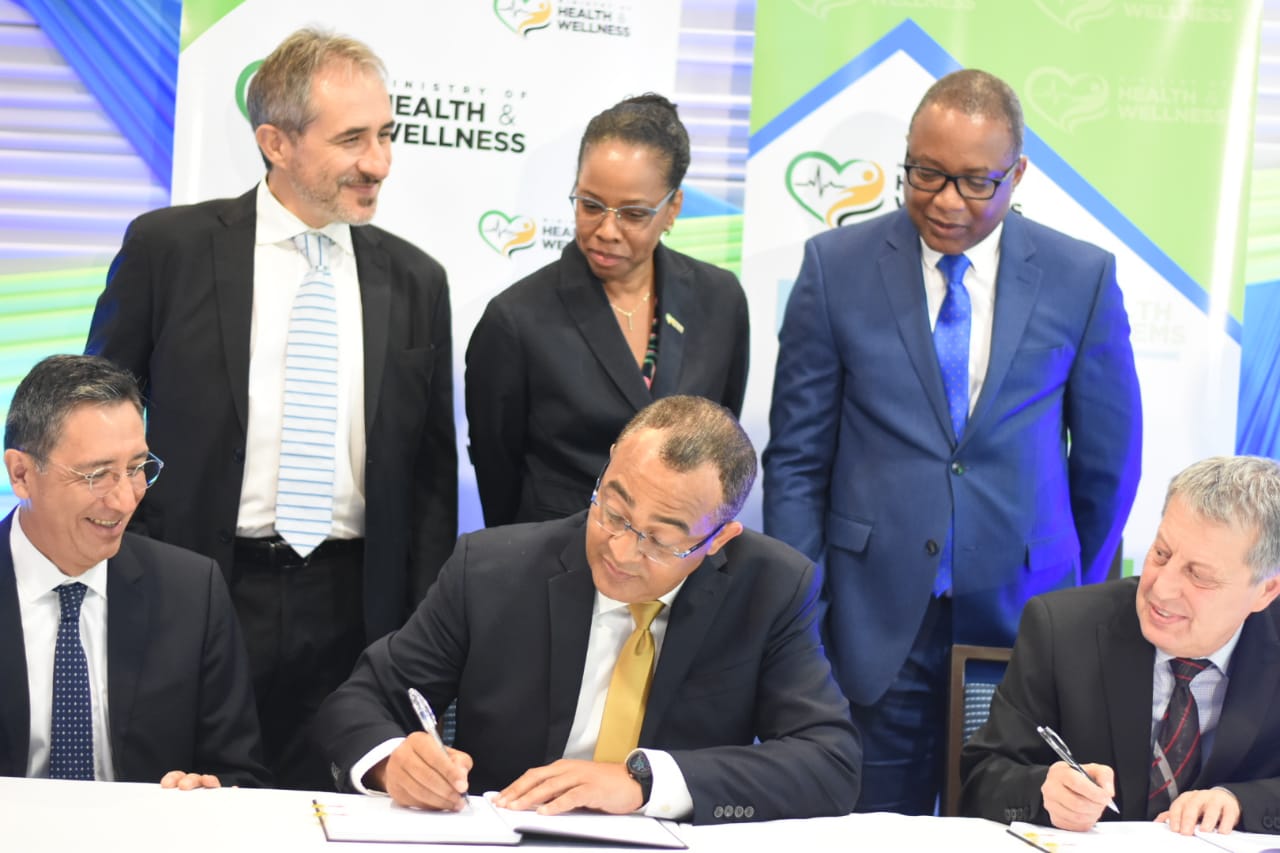 Ministry of Health and Wellness
With its vision a 'Healthy People, Healthy Environment', the Ministry has as its focus a health system that is client-centred and which guarantees access to quality health care for every person in the Jamaican population, at reasonable costs, and which takes into account the needs of the vulnerable among us.
It is one which seeks to provide information and to educate the populace, to facilitate individuals taking responsibility for their own health, making informed decisions and adopting healthy lifestyle habits. All this, within a clean, healthy environment where families and communities actively participate and are integrated into the system of health.
Inter-American Development Bank
With a history dating back to 1959, the Inter-American development Bank is the leading source of development financing for Latin America and the Caribbean where it works to improve lives. Through financial and technical support for countries working to reduce poverty and inequality, the institution helps to improve health and education and advance infrastructure.
Its aim is to achieve development in a sustainable, climate friendly way. As part of its modus operandi, it provides loans, grants and technical assistance, as well as conducts research while maintaining a strong commitment to achieving measureable results and the highest standards of integrity, transparency and accountability.
Three development challenges, notably, social inclusion and equality, productivity and I and economic integration; as well as three cross-cutting issues, including gender equality and diversity, climate change and environmental stability and institutional capacity and the rule of law. READ MORE HERE:  https://www.iadb.org/en
Spanish Town

New Buildings

St Ann's Bay

Extension/New building
Benefiting Health Centres
Chapleton Community Hospital

Refurbishment

Lionel Town

Refurbishment
Greater Portmore

Extension
Brown's Town

New building